'Annie's Legacy' donates to East Cheshire Hospice
'Annie's Legacy' is a new, sensitive and unique service that will allow jewellery left behind by loved ones to be treasured forever. Helen Dimmick is the jewellery consultant behind the initiative; her network of workshops will be able to resize rings, remodel jewellery, recycle gold for cash or even create bespoke items. A 15% contribution to the East Cheshire Hospice will be made for all works undertaken or purchases made in memory of a loved one.
Helen Dimmick with the jewellery left behind by her loved ones
Why is the service called 'Annie's Legacy'?
Annie was Helen's beloved Nana, Annie Dimmick, who died in the East Cheshire Hospice in 1994, when Helen was 21. "The care and dignity with which she was treated has stayed with me and although I so often think of her, I know she is at peace and now reunited with her beloved husband Jim. Today she is my guardian angel and I am very appreciative and respectful of the special care only a hospice can provide," Helen explains. "In her name, and in the appreciation of the care she received, I want to give something back to those who have lost a loved one and those who supported us in their care.
Helen with her beloved Nana Annie
"I'm passionate about both jewellery and people and see my role as bringing the two together," she adds. "Professionally I'm a qualified gemmologist, diamond grader and jewellery specialist; but personally I am motivated by the important role jewellery plays a symbol of love, friendship and the representation of significant moments in our lives.
"We are only ever guardians of jewellery for a fleeting moment in time, as precious metals and gemstones have a durability ensuring they are passed on to generation after generation. Annie's Legacy will ensure that the memories embodied by jewellery passed down, are treasured, safeguarded or given a new lease of life.
"I'm passionate about sharing my knowledge of the symbolism of jewellery – for example, birthstones, acrostic jewellery (names or messages represented by gemstones), the Victorian language of flowers can all be used to create something unique, special and very personal. We also offer an engraving service, full valuation portfolio and purchase jewellery second hand."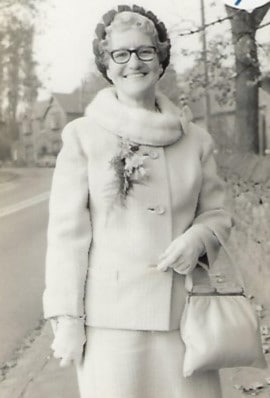 Photo of Annie Dimmick
It was Annie from whom Helen inherited a love of jewellery. "At weekend visits I'd play with her treasure box full of costume jewellery – the decorative effect and fun we had dressing up together was priceless," she explains. "Nana also loved precious jewellery; having worked in a mill all her life she saved and appreciated the finer things in life. Accompanying her to antique fairs I recall her keen eye spotting a bargain or unusual jewel. By far the most important piece of jewellery to her however, was her wedding ring. Sadly she was widowed at an early age, but the love and memories contained in this simple 22ct yellow gold band meant that when I inherited the ring, to date it is the most precious thing I own."
"Having seen the story of Annie's Legacy I felt an instant connection of it being a sensitive & ideal way to explore thoughts about what to do with my grandmother's jewellery, left to me 25 years ago.

Helen really understands how certain pieces of jewellery hold special places in our hearts & for me this was the most important thing.

Helen's knowledge, honesty, & creativity has meant my personal items were honestly valued, brought back to life & were made wearable once again…..instead of being tucked away in a box! Grandma would be delighted!

Time shared with Helen – who is so friendly – has been & continues to be a complete joy – I cannot recommend Helen & Annie's Legacy more highly".
Courtesy of the Macclesfield Express