Hallmarking and Dealers Notice
For The Jewel Matcher Helen, her role is all about best practise and upholding standards. This is completed embodied in the principles of hallmarking, that all jewellery sold in a store or online must carry an officially registered British or international hallmark to guarantee the purity of precious metal.
What is a Hallmark?
A Hallmark is a set of component marks applied to articles made of precious metals namely gold, silver, palladium or platinum. These verify the article has been independently tested and guarantees it confirms to all legal standards of purity (or fineness)
It is in fact the oldest form of consumer protection as hallmarking dates as far back as 1300 when a statute of Edward I established the assaying (test and analysis) and marking of precious metals with the express purpose to protect the public and the trader against unfair competition
As precious metal, Gold, silver and platinum are too soft to use in their pure form they are always alloyed with for example copper to create a suitably strong, workable and yet still attractive material. Yet crucially it is impossible to determine the quality and fineness of precious metals by sight or touch alone. Further unscrupulous undisclosed technique could be plating
In the UK, all jewellery that is sold as having been made with gold, silver, platinum or palladium, must be hallmarked according to the Hallmarking Act 1973. Should a metal object weigh under a certain number of grams, they are exempt from the hallmarking law. For example, small, light items such as stud earrings or pendants may fall into this category and do not have to be hallmarked if their weight falls under:-
1 gram for gold
5 gram for platinum
1.gram for palladium
7.78 grams for silver
A full traditional hallmarks comprises of five marks
Sponsors (makers mark)
Traditional Fineness mark
Millesimal Fineness mark (purity out of 1000)
Assay Office Mark
Date Letter Mark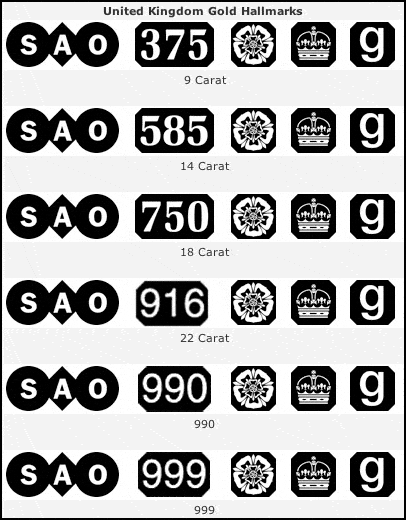 Sponsor Marks
This is the registered ark of the company or person that submitted the article for hallmarking. Composed of the initials selected to represent the business or person within a surrounding seal shape. Between 2 to 5 initials may be chosen and the shield shape varies
Traditional Fineness symbol
The traditional fineness symbol is optional
Millesimal Fineness Mark
This mark denotes how fine or what quality the metal is, as well as indicating the metal type. The numerical format (compulsory from 1999) show the precious metal contents expressed in parts per thousand. An assay office will mark a piece to the lowest standard of precious metal, so it guarantees a minimum of quality. The shape of the surrounding shield indicates the metal type
Assay Office Mark
This mark denotes which Assay Office tested and hallmarked the article
London – Leopard's Head
Birmingham Anchor
Sheffield – Tudor Rose
Edinburgh – Castle
Date Letter Mark
This is a non-compulsorily mark which changes annually on 1st January. The font, case and shield shape all change so each can only denote on specific year. All date punches are destroyed at the end of the year
Hallmarking as a story
Display marks can be a proud feature to complement the items design as for example with Chelsea Rocks or on the limited edition Christmas tree gift boxes
Commemorative Marks
Historically, commemorative marks have been added to the regular hallmark to celebrate and mark special events
Hallmarking at Helen Dimmick Ltd
Helen Says
"This is my sponsor mark. The HMD represents my initials, my middle name Margaret is very special as it is also my mother's name and inherited from many generations of the maternal line. I chose the shield shape for its symmetry and for the outline of a diamond octahedra in the centre"
All bespoke items by Helen Dimmick Ltd are assayed at Sheffield where Helen is a guardian. The Sheffield Assay Office was founded by a 1773 Act of Parliament.